Webinars
During the Covid-19 pandemic, Epilepsy Ottawa is coordinating a webinar series with other community epilepsy agencies across Ontario. Our first contribution to the series was a presentation by Mary Pat McAndrews, PhD – Co-Director of EpLink and Senior Scientist with the Krembil Research Institute. The webinar was on Facebook Live, but can also be viewed here or on Youtube
Webinar: Genetics and Epilepsy Pt. 2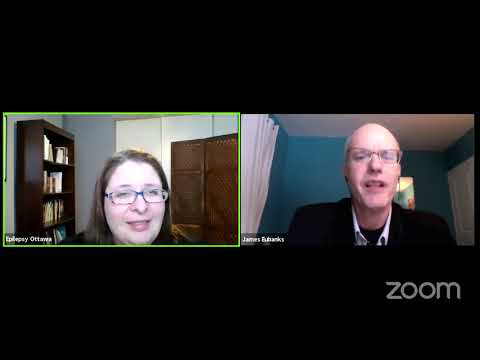 Webinar: Genetics and Epilepsy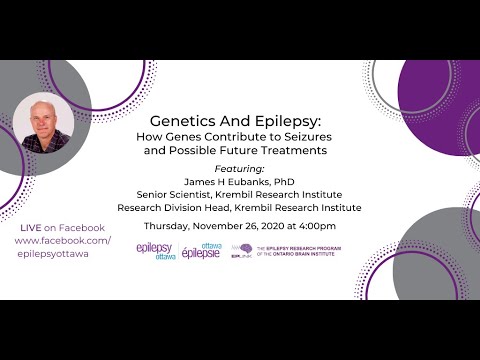 Webinar: EpLink Research Update on Improving Epilepsy Surgery Outcomes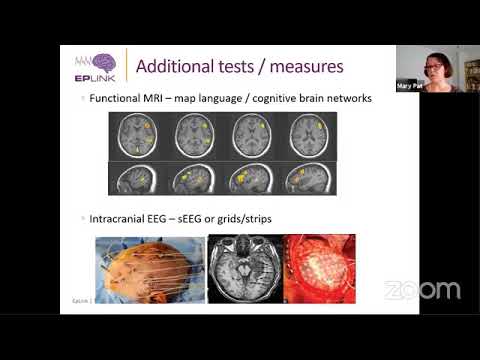 Click on the linked agencies below to watch their webinar videos.
Return to School (co-hosted with Epilepsy Southwestern Ontario)
Women and Epilepsy with Darcia Paul and Paula Marques
VNS (Vagus Nerve Stimulation) with Cameron Finlay of LivaNova
Managing Family Dynamics during Covid-19 with family therapist, professor and author, Theo Selles
Epilepsy Medication and Covid-19 with pharmacist Laura Wang and Dr. Eduoard Bercovici
Working from Home with Epilepsy Employment Specialist Jesse Preston
Managing Anxiety during Covid-19 with Dr. David Gold
Covid-19 & Epilepsy with Nurse Practitioner Ivanna Yau and Dr. Evan Lewis
Return to School (co-hosted with Epilepsy Toronto)
Youth, Mental Health and Epilepsy
Epilepsy Treatment Options with Dr. Andrea Andrade
Coping with the Stress of Covid-19 with Dr. Sarah Vernon-Scott
Epilepsy Care in the Covid-19 Pandemic with Dr. Sayed Mirsattari
Epilepsy South Central Ontario
Women and Epilepsy
An Overview of the Seizure Response Dog Program with Ian Ashworth, Dog Guides of Canada
Comorbidities of Epilepsy for Children with Dr. Elizabeth Kerr
SUDEP: Sudden Unexpected Death in Epilepsy with Dr. Elizabeth Donner
Epilepsy Surgery with Dr. Taufiq Valiante
Medically Supervised Ketogenic Diet Therapy and Epilepsy with Jennifer Fabe, Registered Dietician and President of Matthew's Friends Canada
Public Information Meetings
When we can safely meet in large groups, we expect to return to Public Information Meetings.
Epilepsy Ottawa's public information meetings are open to those living with epilepsy, their families and friends, and the general public.
Meetings feature guest speakers discussing their particular area of expertise, with speakers ranging from health care professionals, legal professionals, employment specialists, health and wellness experts, and more.
Epilepsy Ottawa's public information meetings are often held at The Bronson Center (211 Bronson Avenue, Ottawa, K1R 6H5); however, in the event it is not, the details of each will be posted on our Events page.
Previous sessions include:
Epilepsy and Employment
Carter Hammett, Employment Services Manager, Epilepsy Toronto
Epilepsy and Ketogenic Diet Therapy for Adults
Dr. Eduard Bercovici
Meet Ottawa's new epileptologist, Dr. Tadeau Fantaneanu and find out about the Epilepsy Monitoring Unit at The Ottawa Hospital
Navigating the Healthcare System with Epilepsy and Seizures
Susan Hagar, Marian Meade, and Lynn Joseph (RNs with Nurse on Board)
Financial Planning for People with Disabilities
Troy Mulvey and Lisa Whittleton, Financial Security Advisors, Freedom 55 Financial
Screening of "On the Edge: Living with Epilepsy" – Epilepsy Ontario and Epilepsy Ottawa proudly presented the premiere Ottawa screening of the documentary, On the Edge: Living with Epilepsy at the National Arts Centre, on May 21, 2014. The film screening included a facilitated conversation with the director, a medical clinician, an individual who lives with epilepsy and other notable guests followed by a reception.
Epilepsy in the Workplace & Knowing Your Rights
Jennifer Duff, L.L.B, Law Firm of Shields & Hunt
Epilepsy Surgery for your Child
Dr. Erick Sell, Neurologist & Paediatrician at CHEO
Children & Adolescents Facing Epilepsy & their Futures
Dr. Erick Sell, Neurologist & Paediatrician at CHEO
Epilepsy Advocate Sharing an Inspirational Story
Tim Tilt
Epilepsy & Anti-Seizure Medication
Dr. Erick Sell, Neurologist & Pediatrician at CHEO
Cognitive Aspects of Epilepsy
Dr. Mark Ferland, Neuropsychologist
Living with an Epilepsy Dog Guide
Lise-Marie Andrews & Nadia Amdouni, Lions Foundation Fog Guides Canada
The Registered Disabilities Savings Plan
Dave Wallans, BMO Financial Group
Employment Strategies
Melanie Haldane, YMCA Job Connects
Living Well with Epilepsy
Sara McConnel, Anxiety Disorders Association of Ottawa & Dr. Kandice Lock, Naturopathic Doctor
Communication Workshop
Kathy Herties, MBA
Taking Charge of Your Epilepsy
Dr. Alan Guberman
Epilepsy and EEG Testing
Michael Babineau, R. PSG. T. Ottawa Hospital
Creative Movement & Dance Workshop
Shara Weaver
Epilepsy and Tai Chi
The Taoist Tai Chi Association
Epilepsy After Highschool: Disability Services at Algonquin College and Carleton University
Louise Legault, Disability Advisor & Somi Tam, Learning Specialist
Thank you to our generous sponsor: